The Inner Fit 90 Day Challenge
LOVE your BODY from the Inside Out. Our challenges help people get unstuck in their fitness plateaus. Whether your goal is scale based, how you would like to feel, increasing your energy or finding a newfound body confidence; we are here to help.
In the challenge we provide you with tools for accountability, nutrition, goal setting, body confidence, creating healthy habits, and so much more along with a 90 day guidebook.
This is a coach-led experience. We will be supporting you 100% of the way along with your new fitness community. Let's do this together and discover a love for healthy living.


Starts September 15 to December 15
Save $50 Now
Early Bird Pricing Ends Sept 1st
Registration closes on September 7th
What's Included in the 90 Day Challenge
Measurements, Photos, Weigh-ins.
90 Day Guidebook to track your progress, goals and results.
Nutrition guidelines, recipe ebook and cooking demo class with Chef Dawn, a Registered Holistic Nutritionist
Goal Setting, Body Confidence, & Healthy Habit Workshops
Stay on track with our fun accountability challenge from Goose Chase.
Wine and Dine Cooking Class with Chef Dawn, RHN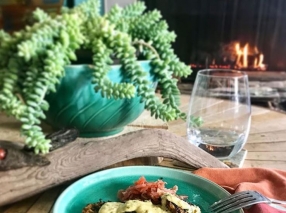 Are you slaving in the kitchen day after day, week after week only to find you have completely lost all enjoyment connected with the meals you are creating in an effort to nourish your body naturally?
If you're anything like all the other wildly ambitious souls living the crazy busy on-the-go lifestyle, you are feeling overwhelmed and burning out from all the extra time it takes to create those nutritious meals at home. BUT you also feel like you HAVE to cook and make all the food no matter how long it takes AND because it's healthy, right?

If you are looking to reconnect to yourself AND the food on your plate, Back to Roots Kitchen is here to help you discover how to cook simply to satisfy your soul AND nourish your body with delicious and easy meals created from plant to plate.
Inner Fit has partnered with Chef Dawn from Back to Roots Kitchen for a Cooking Class Experience.
On Saturday October 19, challengers are invited to an evening at Inner Fit to experience a cooking class of delicious fall favourites to inspire you to have fun in your own kitchen. Dawn will demonstrate her delicious fall favourites for you to try! This will also be recorded live for our online challengers.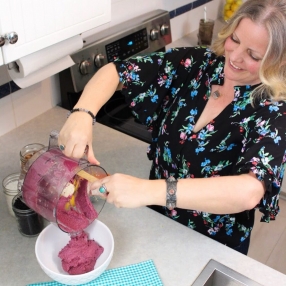 90 days allows you to focus your mind towards your goals and see real results on the inside and out.
Real Results. Real Confidence. Real Fitness Community.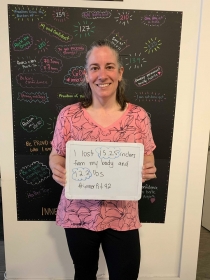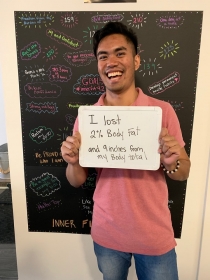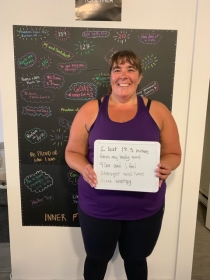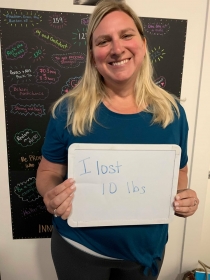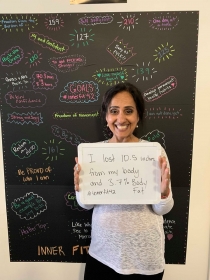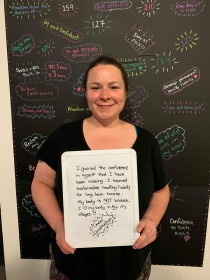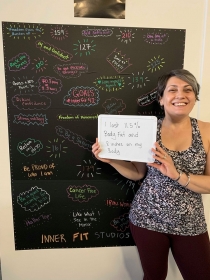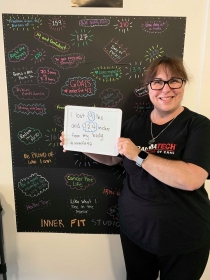 "A dream becomes a goal when action is taken toward its achievement."
– Bo Bennett
Bonus Fitness Accountability Scavenger Hunt
We know the hardest part of any challenge is staying focused for the duration but after years of challenges, we have found the perfect solution with an app called Goose Chase.
Everyone who would like to join in will be placed on a team with members from the challenge. Remote members can join in too! Then each week, we will release fun fitness, nutrition, and community challenges onto the GooseChase app to keep you active and motivated. This is a private app off of social media and allows you to see what the others teams are doing and cheer them along the way too!

Each team to complete the 90 day challenges will be entered into a draw and the winning team will get to donate the cash prize to their chosen charity. We also have lots of fun prizes to be won by everyone in the challenge.

Check out our Fitness Accountability Scavenger Hunt from 2016. What a blast we had!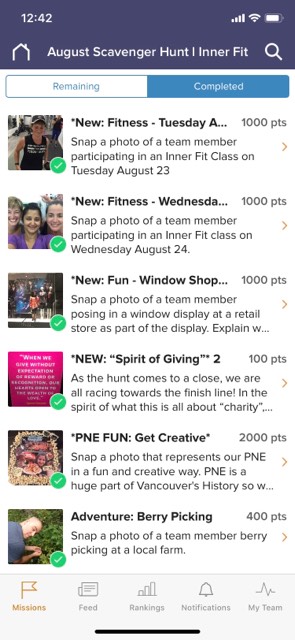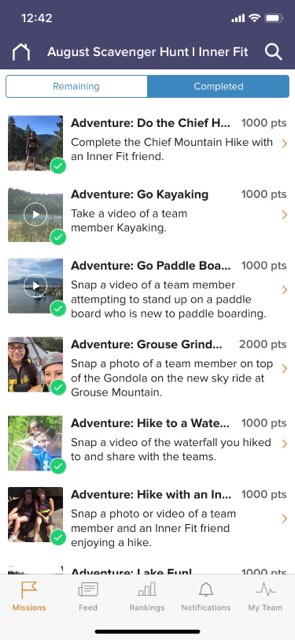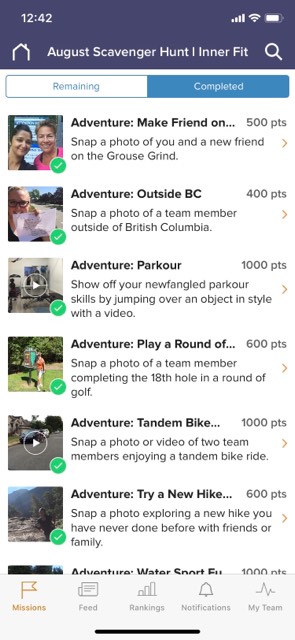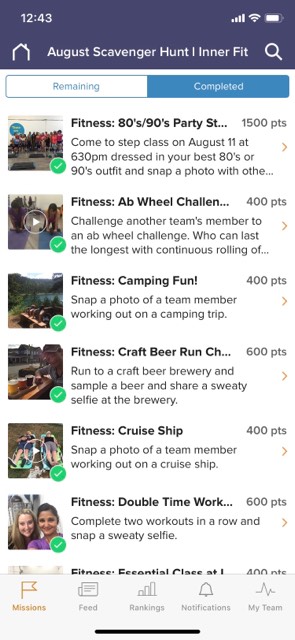 Current Members who hold a monthly unlimited or Fitness Class Pass
3 Month Unlimited Fitness Class Pass + Registration into the Challenge

3 Month Fitness Pass + Challenge
Online Challenge
Experience
Want to join but don't live close by? Join us remotely!
90 day challenge

Fitness Accountability Challenge

Challenge Guide Book

Facebook Group

Workshops & Cooking Class
90 day challenge

Fitness Accountability Challenge

Challenge Guide Book

Facebook Group

Workshops & Cooking Class

3 Month Unlimited Pass

90 day challenge

Fitness Accountability Challenge

Challenge Guide Book (mailed to you)

Facebook Group

Workshops & Cooking Class
Save $50 Now
Early Bird Pricing Ends Sept 1st
Registration closes on September 7th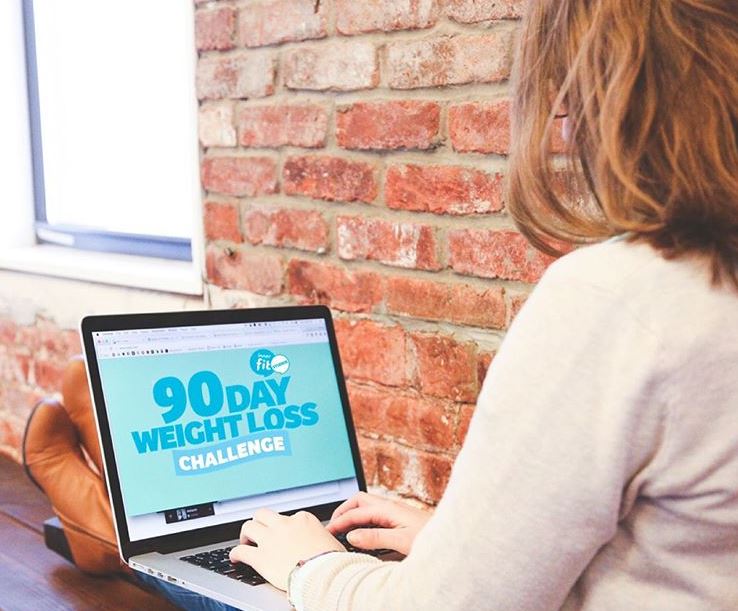 The Online Challenge Experience
We know finding our healthy mojo is hard and we also know finding a supportive community to be part of isn't always easy but can make a huge difference in reaching goals. But thanks to the world of technology, being part of the 90 day Inner Fit Challenge just got easier.
No matter where in the world you live, you can now join into the 90 day challenge and reach your weight loss goals in a supportive online community.
We will be using a Private Facebook Group so you can join into the workshops with Facebook Live and if you miss the workshop, it's there for you to view later.
While technology is wonderful, we still like a few things to pen to paper which is why your handheld 90 day Guidebook will be mailed to you too so keep an eye out in the mail for it. Make sure to register before September 7th to ensure you get your book on-time. With your guidebook in hand, you can follow along with us too at the live workshops.
Throughout the challenge you will receive email support, online support, and the chance to join into the fitness scavenger hunt on a fun team to stay motivated for the 90 days.
If you do not have access to a fitness facility, we will send you workout ideas from home too!
You will also have the chance to work with our coaching team to be accountable by sending us your photos, measurements and weigh-ins.
Don't just take our word for it ...
"The 42 day challenge gave me a framework to create change. I wanted to get grounded in a consistent fitness regime and to push myself into my 'discomfort zone'. Lots of fun and educational events also! It added up to a reduction in my body fat of 8.3% and a dress that now fits me beautifully.... looking forward to the next 90 day challenge to work on my relationship with food! Inner Fit... I am so grateful to be a part of this community!" Shelley Nessman
"In this challenge, I made positive changes and I am feeling good. I feel big changes in my food and my attitude towards food and fitness. I went from eating out frequently to only eating out a couple times a week and learning how to meal prep or cook at home. And I made it to top of Grouse Grind. I didn't quit. I also lost a lot of inches and feeling good about my progress."
"Being in the challenge helped me set goals and gave me deadline. For me, the deadline was the push I needed to make changes in my daily habits and exercise more, as well as eat more balanced meals. It was hard at first, but eventually I started logging my foods automatically, and doing more exercises in a week. Another factor is the community at Innerfit. They will push you, they will check up on you and they will encourage you, whether they're in the challenge or not. And when then deadline finally came, I had lost some weight, grew some muscles, and felt proud of what I've accomplished."
MORE THAN A BIG BOX GYM. We are a Real Fitness Community! Opened in 2007 in Richmond, BC, Canada by Rachel Seay.
Inner Fit Studios is coach-inspired fitness classes, designed to help you see results from the inside out, that's why we chose the name Inner Fit Studios.
The hardest part of any workout is showing up – and we make it simple for you to add fitness to your life by creating fun workouts that challenge you and are doable for any fitness level.
We believe in kindness, community, and more importantly fun. All fitness levels are always welcome.
Our BCRPA Certified Coaching Squad - Rachel, Tania, Breanna, Jody, Kelly, Nicole, Jessie. Managed by Rae (Mama Bear).
Owned and Operated by Rachel Seay
Question? email us here
Do you have a question about joining the Challenge?
We are happy to help you!

Copyright Inner Fit Studios © 2019 All Rights Reserved